ALMOST SOLD OUT! 50% OFF SALE NOW

"I love this pillow! It's making my work chair tolerable while I wait for a replacement. I intend to use it on my new chair too. The purple color is cheerful and I affectionately refer to the pillow as my "Whoopee Cushion". It can work as lumbar support too. I have not had any back pain since using it. Another thoughtful feature is that the pillow can be folded in half and secured by a loop and button closure so it's easy to stick in a drawer or take with you. At the affordable price, why not get several?"
BOOST YOUR SITTING EXPERIENCE!
Get yourself a comfortable cushion that will turn any chair into an ergonomic, posture correcting, and pain-relieving seat instantly! This innovatively designed Dual Comfort cushion balances your pelvis and relieves pressure on the tailbone, hips, and spine. Sit all day and say goodbye to back and hip pain!  This much-loved cushion has changed the lives of over 2.8M+ people all over the world one less pain at a time! Be one of them!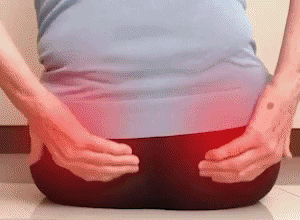 WHY OUR DUAL COMFORT CUSHION?
✔️ CORRECT YOUR POSTURE - Designed to relieve tension and keep the spine in proper alignment. Sit at ease with this ultra-comfy, premium memory foam cushion!  A pillow to support your back for years to come!
✔️ NO MORE PAIN - Built-in center holes will take off pain-causing pressure against the spine or tailbone. Thanks to this, the cushion will absorb shock and minimize pressure in sensitive areas when sitting. Perfect for people with sciatica and lower back pains!
✔️SAVE MONEY - Made with highly resilient foam that doesn't lose its shape with continued use. Quickly returns to its original shape even if you sit with it all day! Will definitely last you for years!
✔️ COMFORT IN ALL SEASONS - Be it hot or cold weather, this soft-plush cushion is designed for dual temperature texture! Use it anytime, anywhere!
✔️ CONVENIENT TO CARRY - Built with an elastic buckle, fold it, and secure it in one go! Conveniently easy to store and carry. Great to use on your office desk chair, computer chair, dining, or even your sofa! Bring it to your work or anywhere you go.
✔️SATISFACTION GUARANTEED - We offer a risk-free 30-day money back guarantee. If you are not satisfied, you can quickly contact our helpful customer support team to get a refund.
OUR PROMISE TO YOU
We always make sure that our products are at their absolute best when they reach our customers, that's why we are proud to offer a 30-DAY MONEY BACK GUARANTEE. If you're not completely happy with your purchase, simply contact us within 30 days of delivery for a full refund less shipping. No question asked!
If you're not satisfied, we are not satisfied. Send us an email at support@thepurplenanas.com, and we're more than happy to assist you!