ALMOST SOLD OUT! 50% OFF SALE NOW

"I have large, deep pores, and it's incredibly difficult to find a product that is powerful enough to deep clean my pores while remaining gentle on my skin. This little tool does the trick just perfectly!! I noticed immediate results with only my first use."
"This product is amazing ! I am a working Aesthetician and this amazing skin scrubber does wonders and my clients love it! Really cleans out the pores better than other skin scrubbers I have used including expensive high end. It is small but mighty , and doesn't take up a lot of space in my treatment room. "
THE #1 AT-HOME DIY TOTAL FACIAL TREATMENT   
Your search for advanced skincare technology is finally over! Using ultrasonic waves & nanotechnology, our Sonic Cleansing Brush smoothly goes deep into your skin to eliminate impurities, stimulate healthy skin cells, maximize skin nutrition & enhance facial contours! Get yourself a mini-complete facial treatment right at the comfort of your home. Be one of many who unraveled their radiant skin & saw their fine lines fade away.
3 LUXURIOUS TREATMENTS IN 1 TOOL

CLEANSING – Uses Ultrasonic Vibrations & Nanotechnology: Gently exfoliates dead skin cells & eliminates blackheads, whiteheads, dirt, oil & other impurities to achieve clean & clear skin.
MOISTURIZING – Negative Ion Charged: Promotes maximum skin nutrition. Aids penetration to serums, moisturizers & creams for effective absorption, creates well-nourished & healthy skin. 
LIFTING - Microcurrent Technology: Offers intense micro-massage to encourage healthy skin cells stimulation that enhances facial contour by tightening & firming your skin.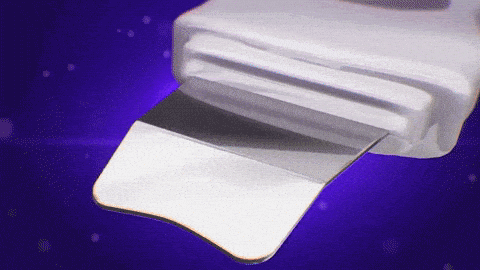 WHY OUR  SONIC EXFOLIATING WAND
ACHIEVE SMOOTH & CLEAR SKIN    This device carries out instant vibrations throughout all the layers of your skin resulting in effective removal of all impurities. Now you don't have to worry about dead skin cells build-up as you age, our Sonic Cleansing Brush got you covered! See an amazing result in just one use.
GET HEALTHY FIRMER SKIN    Minimize pores, tighten your skin, lift facial contours, reduce fine lines, you name it, all to deliver you youthful-looking healthy skin. 
EXPERIENCE NEW GENERATION SKINCARE Our Sonic Cleansing Brush uses new generation microdermabrasion to provide your skin the care it deserves. So get ready to win compliments from your friends & loved ones!
BETTER THAN CHEMICALS Recommended by professionals & loved by many, this device won't harm your skin plus it's safe for all skin types. Say your final goodbye to the harmful chemicals that cause redness & irritation.
BE FLAWLESS SKIN READY  Compact & lightweight, you can carry it around may it be on a vacation or a short trip, you won't be skipping skin routine anymore! Plus it's so convenient, you can charge it once & use it 4x or more!
MASSIVE SAVINGS The care your skin deserves is now within your reach in just one click, so no more expensive appointments to the spa & win more time.
HOW TO USE
 OUR GUARANTEE
Our Sonic Exfoliating Wand comes with a risk-free 30-day money back guarantee for a better buying experience. If you're not happy, we'll make it right! There's absolutely no risk, just give it a try. If you need any assistance, feel free to contact our helpful customer service team at support@purplenanas.com. You're just one click away from getting the smoother, tighter, and healthier skin that you deserve!